A Call to Action . . .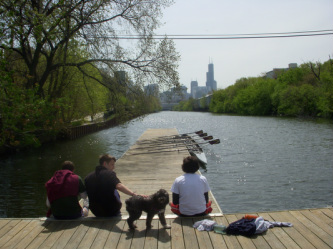 Rowers taking a break on the back channel of Goose Island.
Chicago needs a well thought out community action plan to introduce rowing to the citizens of Chicago. Rowing generates new and unique revenue that cannot be duplicated by any other sport. Rowing has been in Chicago for well over 150 years and continues to be the dominant positive influence on the Chicago River.

A rowing master plan would help the Chicago Park District, local riverside communities, and the State of Illinois maximize potential revenue generated from all rowing boathouses through the implementation of universally proven programming designed. This programming would be able to offer rowing to people of all skills, ages and physical abilities. In addition, rowing should be made available to anyone who visits Chicago for business or pleasure.

This master plan should include ways to assist in the development of new revenue at community rowing facilities on the Chicago River, Cal-Sag, Lake Calumet, Fox River, as well as any other body of water in the region. In addition, a modern international level race venue is imperative to keep overall programming costs down, mainly as a result of necessary and costly travel expenses.

This Master Plan needs the assistance and guidance of the local business community. Both local small businesses and larger, more recognizable industry leaders would be likely partners in any growth in community athletics in Chicago, especially youth. More participants in alternative athletics also help to create a larger community of potential customers for their businesses.

According to a 2006 study by the US Fish and Wildlife Service, over $2 billion is spent each year as a result of outdoor recreation in Illinois. (Millennium Reserve press packet, December 2011) Because of this, one would assume an increase of outdoor recreation in Illinois, specifically the development of alternative sport options, would positively contribute to the growth of the local economy. Coupled with the health benefits of an active lifestyle and the social skills one develops in team sports, alternative sports like rowing have the potential to make a significant impact in the City of Chicago.
---